High quality taxi service to and from Soho Farmhouse for Oxfordshire train stations, Oxford Airport, and surrounding towns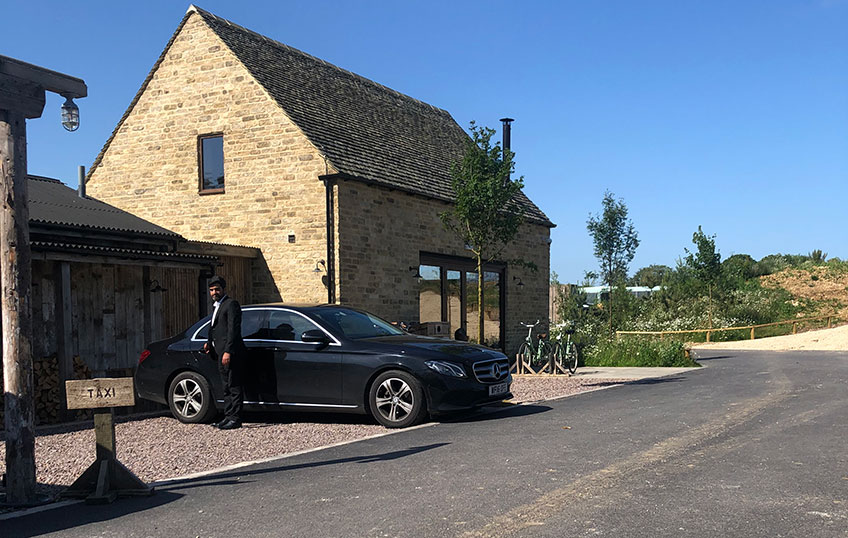 We offer an efficient and quality service to and from Soho Farmhouse from a variety of locations. If you need a transfer from Banbury Station, Charlbury Station, Oxford Airport, Oxford Train Station, or simply from surrounding locations across the UK towns such as; London then we can help. Our connections throughout Oxfordshire means we can pick you up from anywhere and get you to your destination safely and on time. We also service all UK airport transfers such as Birmingham, Gatwick, Heathrow, Luton, and Stansted.
You can book your taxi easily by calling us on 01865 240000, ordering online, or directly at Soho Farmhouse which gives you booking priority, enables you to track your vehicle, and also allows you to pay for your taxi directly via your card in the car.
001 Taxis is the only Oxfordshire taxi company you'll ever need. Whether you're looking to travel for business purposes or simply for pleasure, we'll make sure your journey is as enjoyable as possible, every time.
Choosing 001 Taxis for Soho Farmhouse
Due to its remote location, Soho Farmhouse is not accessible by means of public transportation, so if you often frequent Soho Farmhouse you'll need a taxi company you can rely on – so why not choose Oxfordshires favourite taxi company? We have a dedicated on site admin office to deal with any queries and to ensure a smooth service is applied, plus we apply an Executive Mercedes only service to the highest of standards. All of the drivers who have access to the Soho custom base are in full uniform.
Prices
Available on request.
Please call us on: 01865 240000 or email soho@001taxis.com
Why 001 Taxis is Oxford's Favourite Taxi Company
The very best drivers
All 001 drivers that engage with us are licensed by Oxford City, Vale of white Horse, South Oxford and Cherwell District councils. All drivers are uniformed, DBS (criminal records bureau) checked and undergone safeguarding courses and most have an NVQ in Road Passenger Transport. All cars are maintained to a high standard to ensure comfort, security, and above all – safety.
Safety and security second to none
At 001 Taxis our aim is to make your booking experience as simple as possible, whether you book online, over the phone or via the 001 App, you will instantly receive a text confirming that your taxi has been dispatched. For your security and peace of mind your text will show the make, model, registration and colour of your car, and a second text will alert you that your vehicle has arrived.
Unbeatable customer service
Our professional service's and reputation has gained us some very big corporate accounts and our portfolio is growing daily. Our ability and willingness to adapt to the needs of our clients can be judged by the quality and quantity of our customer base.
You can always rely on 001 Taxis
At 001, we pride ourselves on delivering an efficient, quality service to all of our customers. Our ethos is to maintain high standards at all times to ensure satisfaction is guaranteed. Open 24 hours a day, 7 days a week.
We are Soho Farmhouses' recommended executive taxi provider.
Drivers have bottles of water, Wi-Fi, card machine in the car.
Additionally, we also provide multiple car seats to cater for passengers of all ages. These specialised seats are located at the Farm for any guests who travel with children, and can be used for all pick ups and drop offs upon request.
If customers travel to/from Soho on a regular basis. Why not open a corporate account, this will enable you to book without the fuss of paying each time you travel. We can offer a 10% discount for all corporate account bookings. So well worth setting up an account today. Please email soho@001taxis.com