Make life a little easier by using 001 for your airport transfers. You can book your Luton transfer quickly and easily online, by phone or via our mobile app up to 3 months in advance or on-demand, the choice is yours!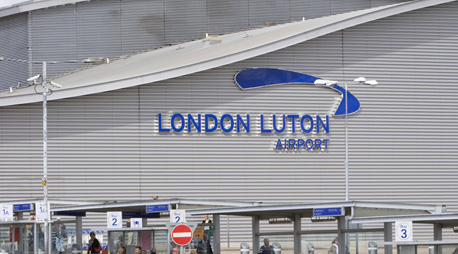 London Luton Airport is the fifth busiest in the UK and the fourth biggest of London's six airports. One of the main employers in the town, the airport dates back to 1938 and was used by the RAF in WWII. They handle over 14,500,000 passengers a year and fly to 60 destinations across Europe, Northern Africa and Asia.
Luton transfers
Let us make your trip to and from Luton Airport as easy as possible. Located close to the M1 and M25, only 32 miles from Central London, an average taxi from central Oxford to Luton Airport will take around 1.5 hours. Here you'll find all the information you need to plan your journey, including your taxi to or from Luton quote.
Take the hassle out of getting to and from the airport, whether your trip is for business ot pleasure we can eliminate the worry of booking parking or waiting for trains and buses. Enjoy your last day of your holiday or unwind from your business trip with a drink on the aircraft without needing to think about exceeding the drink drive limit. Our professional drivers will deliver or pick you up right outside your front door!
Flight checking and travel times
To-the-minute flight information, including delays, should they arise meaning we can modify the details of your Luton taxi booking.
You can book your Luton transfer well in advance of your flight, or simply book on the day. However you choose, you can be rest assured that your airport transfer will get you to and from the airport on time, with minimum fuss.
Departures
Your driver will drop you right outside the terminal and will help you with your luggage
Arrivals
Uniformed drivers with name boards to meet you in arrivals
Our driver will meet you in arrivals with a 001 Taxis name board. They will be happy to help you with your baggage and lead you to the car parked a short distance away. In the event of any delays, they will call you using the contact details you have provided.
Prices
Prices do not include any airport drop off charges Airport drop off charges will be added at the end of the booking. Please check airport website for latest drop off/parking charges For prices from other towns and villages please contact us to confirm the price.
Airport
Airport code
Car
Estate Car
5-8 Seat Minibus
Executive Car
Heathrow Terminals 1, 2 & 3:
LHR T1, T2, T3
£80.00
£85.00
£105.00
£95.00
Heathrow Terminals 4 & 5:
LHR T4, T5
£85.00
£90.00
£110.00
£100.00
Gatwick:
LGW:
£120.00
£125.00
£150.00
£135.00
Luton:
LTN
£95.00
£100.00
£120.00
£110.00
Stansted:
STN
£130.00
£135.00
£155.00
£145.00
City Airport:
LCY
£140.00
£145.00
£170.00
£155.00
Birmingham:
BHX
£95.00
£100.00
£130.00
£110.00
Southampton:
SOU
£115.00
£120.00
£140.00
£130.00
Please note: journeys may include extra costs for waiting time and parking fees.

Prices correct as of 01/02/2022
Please note: journeys may include extra costs for waiting time and parking fees.
Airport return transfer prices
Return journeys from airports are priced the same as the outward journey, but with any car parking charges and waiting time added. Car parking charges will vary depending on the rate charged by the airport. Waiting times depend on the type of car you book:
Car £18.00 per hour
Estate £18.00 per hour.
5-8 seat minibus £18.00 per hour
Executive car £18.00 per hour
Our office will check your flight details before despatching drivers in order to ensure you pay the minimum for waiting time and car parking charges. We will take your contact details at the time of booking so that the driver can contact you if needed.